ESRC Coach profiles:
Steve Cis-Director of Racing 
Born in the Trentino region of Northern Italy, I have been skiing since an early age. After finishing high school, I came to the UK and joined my father in helping to run the slope at Brentwood, known back then as Warley.
Over the years, after first gaining ski instructing qualifications, first with Snowsport England (ESC), BASI and then AMSI (Italian), I soon took an interest in competitive skiing and helping skiers achieve a higher level of performance and eventually became a Race Coach.
Having gained my FISI L2 coaching badge in 1998, I then spent a year in the United States working along- side the USSA helping to train young USST athletes engaged in NORAM and Europa Cup FIS races.
On my return to the UK a year later, I became co-owner of Brentwood Ski & Snowboard Centre and took on overall responsibility of performance coaching for the Race Team with the help and assistance of some great coaches along the way. Now, working alongside a team of great coaches, my aim as Race Director is to help and assist them to deliver the highest levels of coaching to enable all Essex Ski Team athletes achieve their future goals and aspirations.

Dan Curtis-Head Coach  
Dan has been involved in the club for over 20 years, initially as an athlete where he competed on Dry Slope and at FIS level on snow. Having stopped racing when he went to Brunel University where he studied to be a Physical Education teacher, he completed his coaching and teaching qualifications during this time.
Since then, he has gone onto coach various schools, coached at the World School Games for the English Schools Ski Association as well as for Essex Ski Racing Club, where he has been the Head Coach since 2016. Dan also brings his experiences from his profession and university to help athletes off their skis to develop fitness levels. 
Garedd Gardner-Thursday Evening Race Coach
Garedd has been involved with the ski centre since 1978, progressing through the National Team in the early 90's and represented Team GB in FIS Alpine events before retiring from racing to follow his work career. Garedd returned to skiing in 2017 where he has completed his Coaching qualification and now part of our coaching team and also coaches for Impulse Alpine Racing.
Following on from his return to racing, Garedd finished in the top 10 of the British Champs and was narrowly beaten to come second over all in the Masters Category in 2019 and ranked in the top 15 racers overall throughout the 2019 season. Earlier this year he had the opportunity to represent Great Briton in the World Masters games in Innsbruck Austria where he competed in the Slalom / Giant Slalom & Pro-Slalom with a top 30 placing.
Martyn Amos-Saturday Evening Race Coach
Martyn learnt to ski at the young age of 10 and enjoyed his progression within the sport at Brentwood Ski Slope. Having a love of Wengen Switzerland, he completed his teaching qualifications and has seen many athletes develop from a "kids morning" into the Saturday evening development session. In recent years, he has coupled his wider knowledge in football and in sport in general with his coaching on a Saturday evening.
---
ESRC Committee Member Profiles:
Chairman- James Fisher
The Fisher family came for a ski one Saturday afternoon in 2016 at which point his son immediately signed up for race training. A year after watching Ed from the side of the he slope, James joined in with a few of the other dads and is now competes regularly on the ESRA/LSERSA circuit. His daughter, Emily, is now one of the Ski Instructors and wife, Victoria, a regular at the club. James works for the NHS and enjoys sailing (on the rare occasion when he & Ed are not ski racing).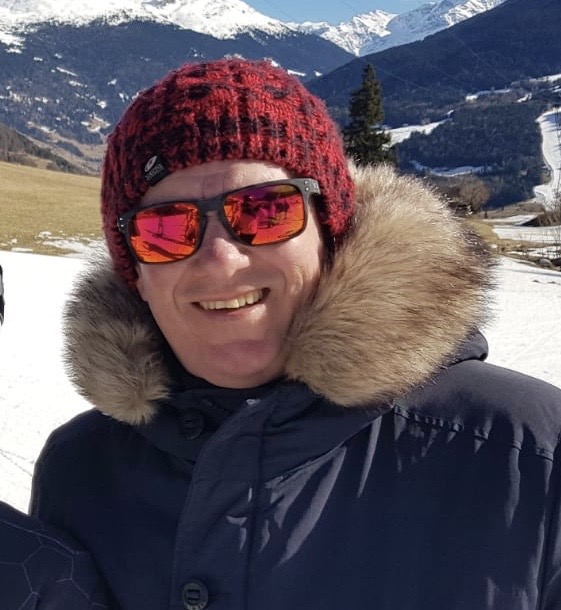 Vice Chairman- Jeffrey 
I have been a member of the Club since 2017 and was elected to the position for the 2020/2021 season.
I joined other enthusiastic parents in 2017 who seemed to be enjoying themselves a great deal while their siblings were improving their skiing techniques.
With encouragement from Dan our head coach I entered into the Club races and then with much unbridled enthusiasm entered the ERSA Master 4 category races. To my surprise coming 3rd in the 2017 season. Improved to 1st in the 2018 and then beaten into 2nd place by the Suffolk coach in 2019. My ambition is to beat that coach in the next available season!
My wife Cathy actively supports the Club and its members. Alex our son is a racer with the club. If anybody needs any assistance or guidance just ask as we hope Essex Ski Club is one big family! – See you on the slopes.
Treasurer- Nyree 
Nyree first went skiing aged 11 on a school ski trip to Crans-Montana, having first learnt at Harlow dry slope. Since then she has skied recreationally almost every year having developed a lifelong passion for skiing and the mountains.
In 2016 she brought her son Sebastian, then aged 6, to ski at the Club's Saturday morning sessions.  They loved it and the community of the club so much they stayed and during the first Landgraaf trip, Nyree joined as an athlete and now regularly attends Saturday evening sessions alongside some other parents. She has also entered club races and ERSA races.
Nyree is a Barrister and works for HMRC and in her spare time loves ballroom and latin dancing and singing in a local choir.
Secretary-Profile coming soon
Membership Secretary- Andrew
Andrew has been involved with the club since 2013 when his eldest daughter expressed an interest in ski racing and joined the Club. Shorty after his youngest daughter became an Essex racer too.
When you contact the Club Andrew is likely to be the first person your introduced to, and his grassroots enthusiasm for setting young (and old!) skiers off into the world of ski racing is infectious. Andrew is unmistakably Essex born and bred and works as a Signaller.
Child Protection Officer- Nicky 
Nicky learnt to ski in the pouring rain at Brentwood slope during the 90s. Once Alex (her eldest daughter) decided she wanted to ski every week – rather once a year during half term – the Elphick family became regulars to the club.
Nicky takes her role of Child Welfare Officer seriously, being suitably qualified.  She also makes a point of trying to get to know everyone, remembering names, faces and who belongs to who.  Something her husband Andrew (Membership Secretary) struggles with!
If you have any queries concerning child welfare please don't hesitate to contact Nicky. essexskiracingclub@gmail.com
Head Coach Representative- Dan Curtis 
Dan brings his role of Head Coach to the committee whereby he links the strategic direction of the coaching programme, overseen by himself and the coaching team, with the direction of the club to ensure that the best outcomes for all the members can be achieved.